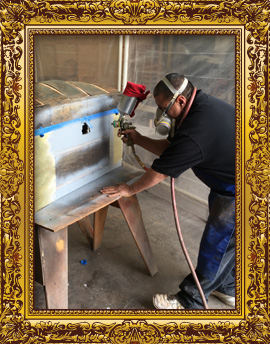 At Irwin's Furniture Restoration we provide any level of refinishing service you may need, from a basic touchup to a complete strip and refinish project. We have developed quite a reputation in the Phoenix Metroplex for providing superior quality work and particular attention to fine details. Because of this, we are regularly entrusted with the restoration and conservation of fine antiques and family heirlooms. In addition to residential fine furniture and antiques, we have also done an extension amount of restoration for noteworthy local businesses such as: the MIM, the Glendale Arizona Historical Society, Boulders Resort & Spa, The Buttes, The Wigwam, Fiesta Inn Resort, Gainey Village Health Club & Spa, DC Ranch Village Health Club & Spa and many others.
Services include full service furniture refinishing and antique restoration, chair re-gluing, general repairs, traditional & exotic refinishing, veneering, parts manufacturing, lathe work, carving and more.
Whether you have a contemporary piece in need of a simple repair, or a valuable antique to restore, Irwin's Furniture Restoration is here to serve you with quality craftsmanship and impeccable customer service.
Please enjoy our photo gallery below. Photos updated frequently.